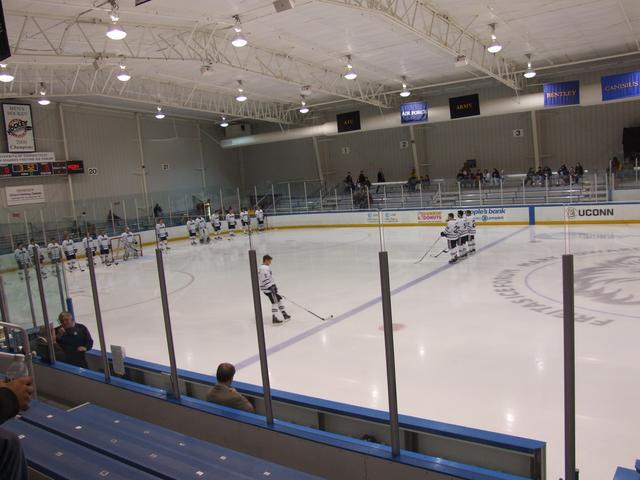 I don't like the idea of sites set up to call for a coach's firing, or people saying they can do the job better themselves. But I'm writing this post because I am 100% certain I am correct on this one. It's painful to watch a program with decades of history going down the drain because the coach in charge looks like he doesn't care anymore.
No, I don't mean George Blaney.
I'm talking about Bruce Marshall. Who is Bruce Marshall? He is the winningest coach in the history of UConn Men's Ice Hockey. He led the team's NCAA-mandated jump from a middling Division III team to being the worst team in Division I.
I'm not being facetious. The University of Connecticut has the worst team in all of Division I. This year the team is 4-22-3.
4 wins. 3 ties. 22 losses.
But it would be silly to say they have the worst team in all of D-I based on schedule. After all, the Huskies play in Atlantic Hockey, which is the Great West of Division I hockey (complete with having Air Force in the conference, because when I'm thinking of the Atlantic Ocean, oh yeah, I'm thinking of Colorado Springs). As such, they are going to be playing against bigger, stronger schools (read: ones whose athletic departments care) out-of-conference.
They are the worst team based on statistics. Let me explain through the wonders of math.
UConn is 58th in the RPI. Out of 58. By a wide margin.
Despite playing an easier schedule than 6 other D-I teams.
Putting them behind American International College.
Which is an otherwise Division-III commuter school.
In Springfield.
The program has been trending downwards since the program's apex, winning the 2000 MAAC Hockey Championship at home, in front of a packed house. Unfortunately for the Huskies, the NCAA did not grant auto-bids to teams that won their conference tournaments until the next season. Little did anyone know that Bruce Marshall would oversee a program careening off the tracks after that.
Season W-L-T
2009-10 4-22-3
2008-09 9-26-2
2007-08 13-21-3
2006-07 16-18-2
2005-06 11-23-2
2004-05 11-23-3
2003-04 12-16-7
2002-03 8-23-3
2001-02 13-16-7
2000-01 12-19-4
TOTAL: Last 9+ seasons 109 wins, 207 losses, 36 ties
To be fair, this year's team is young. 18 underclassmen. No slight to these young men, they deserve a lot of credit for playing at UConn while getting no athletic scholarship assistance, despite all the past failures, just because they love the school and love their sport. They are the student-athlete pictures the NCAA tries to drill into us ad-nauseum during March, between games where one-and-dones make millions of dollars for their schools.
But the stats above don't lie. I don't expect it to get any better in the next 3 years because it hasn't gotten any better in the previous eight. Eight seasons, going on nine, is a perfectly reasonable time frame from which to conclude a change should be made.
Let Coach Marshall collect his pension, let him aid in the search, let him retire with dignity, name the rink surface for him if you'd like. But for the love of all that is Todd Krygier, make a change. Give some young assistant in Hockey East who wants a job a shot. Take a chance. Really, you can't improve on 4 wins? With a young impressionable roster? Impossible.
Long-term, I'm not expecting UConn to join Hockey East, even though their commissioner has in the past publicly opined for UConn and Rhode Island to step up and bring every state school in New England into the conference. I don't even expect a Quinnipiac-like-attention-whore push into the ECAC.
UConn has advantages over every single program in the conference. Every one. No military commitment, a bigtime athletic department committed to winning across the board, their own rink on-campus, a large school fan base to pull from and a very good academic school as well (love the LeMoyne synergy in that last link).
Can they try and at least be competitive in Atlantic Hockey? Is that really too much to ask?
If it is, then why bother. I love the program. Warts and all. But they should just drop it if they're going to let it rot. It's like leaving old tuna in your fridge because, well, you're too damn lazy to throw it out. You just get used to the smell because you tell yourself it'll change eventually.
It never does. It just smells worse.